With The Canadian Chamber Choir, led by Dr. Julia Davids
Join us from anywhere to spruce up your vocal technique, clear out the COVID cobwebs and share in the joy of creating music together, all from the safety of your own home! Enjoy two virtual workshops with Dr. Julia Davids and the Canadian Chamber Choir and an opportunity to create a lasting memory by performing alongside the CCC in an optional Virtual Choir Performance of "Why Can't We". The song was originally composed and performed by the folk duo Naming The Twins and has now been arranged for choir by Nova Scotian composer Donna Rhodenizer.
WARNING – extreme feelings of fellowship and joy may occur!
Workshop I: "Tune Up" - Sunday April 11, 4:30 pm ADT, will focus on vocal health and technique - a great way to get the voice moving again! The workshop will be led by Dr. Julia Davids with the help of a quartet of singers from the Canadian Chamber Choir. Meet the arranger Donna Rhodenizer and the co-writer Kathleen Glauser.
Workshop II:  "Sing Out"- Sunday April 18, 4:30 pm ADT will consist of a virtual rehearsal to assist choristers in their learning of "Why Can't We". It's an "easy to learn" SATB piece and registrants will also receive learning resources prepared by the Canadian Chamber Choir.
"Why Can't We?" Virtual Choir Video -  Note this part is optional; the main goal is to raise your spirits, warm up your vocal chords and boost your confidence through the workshops! For more details on the ways in which you can contribute to the video, check out the FAQ section below.
A joint project between the Nova Scotia Choral Federation and the Robbie Songs Project, Tune Up & Sing Out!  aims to create a virtual space for choristers to come together in song and to highlight one of the many choral arrangements of Robbie Smith's music. To peruse the other arrangements, click here.
For more information on the program, contact us at programs@nscf.ca.
---
Featured Artists
Guest Conductor - Dr. Julia Davids
Guest Choir - Canadian Chamber Choir
Arranger - Donna Rhodenizer
Naming The Twins
Dr. Julia Davids is the Artistic Director of the Canadian Chamber Choir, Canada's professional level ensemble dedicated to building communities through choral singing. A founding member of the CCC, Julia has led the ensemble on concert and workshop tours of every province. She directed the CCC's 2010 debut recording In Good Company as well as their Juno-nominated 2015 release Sacred Reflections – A Canadian Mass. Julia has led workshops and master classes for choirs and conductors throughout Canada and the US. She is passionate about mentoring the next generation of choral conductors and is committed to giving emerging and established Canadian composers a forum for their work. A native of London, Ontario, she grew up singing in the Amabile Youth Singers, the Ontario Youth Choir, and the National Youth Choir, for whom she was the first Apprentice Conductor.
Julia is the Stephen J. Hendrickson Professor and Director of Choral Activities at North Park University, Chicago. She directs the University Choir, the Chamber Singers, and teaches choral conducting and music education. Julia is co-author with Stephen LaTour of "Vocal Technique – A Guide for Conductors, Teachers, and Singers" published by Waveland Press in 2012 and winner of Choral Canada's 2014 award for Best Choral Publication. Julia is the Music Director of the North Shore Choral Society, a 130 voice amateur community choir. She also serves as Director of Music Ministries at Trinity United Methodist Church, Wilmette. Julia earned a Bachelor of Music in Education and a Bachelor of Education at the University of Western Ontario, Master of Music degrees in Conducting and Voice Performance at Michigan University, and a Doctor of Music in Choral Conducting at Northwestern University.
Beginning as an unlikely dream nurtured by alumni of the 1999 National Youth Choir, the Canadian Chamber Choir has matured into an artistic force whose mandate to bring new and existing Canadian choral music to every corner of Canada has allowed singers, conductors, audiences, and composers to come together in celebration of the depth of this country's choral heritage. Under the artistic direction of renowned conductor and music educator Julia Davids, the CCC has pursued artistic excellence in every performance while always remaining true to its core mission: building community through choral singing.
The CCC offers some of Canada's finest choral singers a professional choral environment in which to nurture their gifts, and the singers in turn give of their talents to the communities in which they perform. Each CCC tour features workshops for local singers and conductors of all ages and stages, as well as performances of diverse music by Canadian composers both established and emerging. Through these interactions, the CCC has inspired, nurtured, and mentored thousands of choral enthusiasts while working tirelessly to champion the vast wealth of choral music created in Canada. The power of this unique vision has allowed the CCC to truly become Canada's coast-to-coast chamber choir.
Canadian Music Educators Association (CMEA) "Jubilate Award of Merit" recipient Donna Rhodenizer is an accomplished songwriter, composer and music educator. Her song lyrics reveal a writer in touch with people and life experiences, with a unique way of seeing the world. Donna's music reflects her love of harmony and beautiful melodies instilled through her choral experience and classical music training as a violinist. Donna has written commissioned songs and choral arrangements for several leadings choir across Canada and the United States. She also has songs published in the Royal Conservatory Graded Voice series published by Frederick Harris. Performances of Donna Rhodenizer's compositions can be found on YouTube.
For additional biographical information, click here.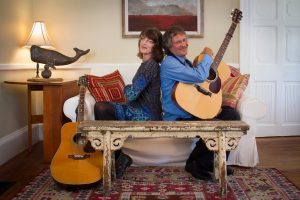 Until Robbie Smith's passing in 2019, Naming the Twins was the Nova Scotia based, harmony rich guy-gal duo of Robbie Smith and Kathleen Glauser whose vocal blendings sounded a bit like Simon & Garfunkel, if Art was a girl, a bit like Peter, Paul & Mary, if one of the boys was taking the night off. Their original material maintains the tradition of Ian & Sylvia, Gordon Lightfoot and Stan Rogers.
Their energy, casual banter, wide variety of song styles and remarkably well matched voices captivated audiences wherever they performed. Their presentations were well balanced with thoughtful ballads and toe-tappin' numbers, transporting the listener with lyrical imagery and sweet harmonies.
Since Robbie Smith's passing , Kathleen has been working with the Nova Scotia Choral Federation to continue Robbie's legacy through the creation of choral arrangements of his songs. To view the the collection of arrangements (so far), click here.
---
Program Overview/ Schedule
Saturday, March 20th–  Digital learning resources including marked scores, practice tracks prepared by the Canadian Chamber Choir and piano accompaniment track will be made available to choristers.
Sunday, April 11th at 4:30 - 6:00 pm ADT– "Tune Up" Virtual Vocal Workshop with Julia Davids and a Quartet from the Canadian Chamber Choir*
Sunday, April 18th  at 4:30 - 6:00 pm ADT– "Sing Out" Virtual Rehearsal of "Why Can't We?" with Julia Davids and a Quartet from the Canadian Chamber Choir*
Sunday, May 2nd  at 11:59 pm ADT -Deadline to submit recordings for "Why Can't We?" Virtual Choir Performance
*Both virtual workshops will be recorded and made available to registered choristers as additional learning resources. 
---
FAQ
To read through some Frequently Asked Questions about the program, click here.
---
Registration
To register as an individual for Tune Up & Sing Out, please fill out this form, Tune Up & Sing Out Registration.  Registration is limited and will be accepted on a first-come-first-serve basis. Don't hesitate to register!
To complete your registration, please remit payment to the NSCF through the PayPal Button below or by e-transfer (Detailed below). Once your registration has been fully processed by NSCF staff, you will receive a confirmation email with links to learning resources and instructions for the recording project.
---
Program Fees & Payment Options
Program Fees
Chorister Fee- $15 per singer
Program fee includes: Tuition for 3 hours of workshop time with Guest Clinicians, Music loan, Digital Learning Resources, Instructions for Recording a Virtual Choir Submission, and Participation in "Why Can't We?" Virtual Choir Performance with the Canadian Chamber Choir
Payment Options
Method 1: PayPal
Method 2: E-transfer
Send an e-transfer to nscfadmin@nscf.ca. Please use the following security question:
What program is this for? Answer:  TuneUp  (Two capitals, no space)