Notice on Registration
Due to the COVID-19 Pandemic, the NSCF regrets to inform our membership that Sing Summer Camps will be cancelled for the Summer 2020.
For Children & Youth: August 9-15, 2020
For Singers ages 13 - 18 (mixed voice choir)
Guest Conductor: Dr. Mark Sirett 
Jump to Payments Jump to Important Documents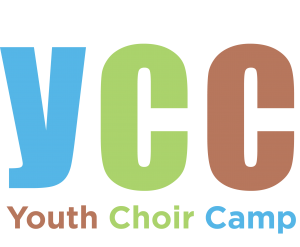 For 2 weeks every summer, voices gathered in song float among the hemlocks of the Berwick United Church Campground. A wonderful and magical place, it has been the home of the NSCF Sing Summer program for 33 years, each year welcoming over 275 singers in two weeks of programs. Cute, multicoloured cabins, indoor and outdoor rehearsal and activity spaces, and the centre pavilion, make it the perfect location to sing, to learn, to connect, and to become a part of the choral community.
YCC provides an opportunity for teenage campers to develop their skills as choral singers under the guidance of excellent instructors. The camp experience exposes teen singers to many styles of great choral literature, from madrigals to contemporary music. The skills and knowledge introduced are fundamental tools for musical growth and often become the foundation for a lifelong love of singing.
In addition to the great musical and social activities, YCCers tell us this week is a wonderful opportunity to step away from their busy worlds and just hang out together in a cool, relaxing place. It's a place where young people can be themselves, where people are accepted for who they are, and where music binds everyone together. It's a place for drama, dance, musicianship training and great food. It's a place for Hollywood night, pyjama breakfast, and theme supper. It's a place of laughter, sunshine and song. But most of all, it's a place for you! The week ends with a concert for family members and friends.
Registrations will be taken on a first come first served basis until we reach maximum capacity.
Meet our Guest Conductor, Dr. Mark Sirett
Camp Fees
Everything is included for the week - Campers get a full a day of organized instructional time in rehearsals, sectionals, artistic workshops, social activities and cabin time | Music score rental | Camp T-shirt | 24 hour care from chaperones and artistic staff | Accommodations and meals for 7 days and 6 nights
For singers of NSCF member choirs: $490.00
For singers of non-member choirs: $515.00 (ask your conductor if your choir is a member!)
Download Bursary Form (PDF below) Due date May 31
Register Online for YCC!
We are making the switch to a fully automated registration to limit paper us and to improve organisation.
Note: We will still accept cheques through the mail.
Step 1: Complete Online Registration Form 2020 (Closed for this year due to COVID-19)
Step 2: Pay Deposit
To Reserve Your Spot at Camp
Online forms must be received and accompanied by a payment. Payment can be in full, or $100 deposit, with balance due July 9th, 2020. Deposit non- refundable after July 12, 2019. The Remaining Balance must be received by August 3rd, 2020.
Remaining fee non refundable after August 3, 2020 (Emergency or illness may be considered for partial refund. Request must be accompanied by doctors letter ).

Payment
Option 1: Send a cheque to Nova Scotia Choral Federation, 1113 Marginal Rd, Halifax, NS, B3H 4P7 (payable to Nova Scotia Choral Federation - with YCC and campers name in memo line)
Option 2: Pay online with PayPal (please note a service charge will be added when using PayPal)